65:8 @ 6:58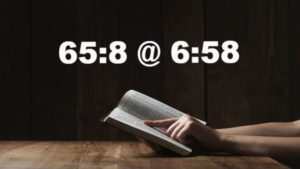 IS NOW A PUBLIC GROUP ON FACEBOOK!
Check out our morning devos and feel free to share with others!
Psalm 65:8 says: "The whole earth is filled with awe at your wonders; where morning dawns, where evening fades, you call forth songs of joy."  
We hope to start each day calling forth songs of joy in our lives together.  Please join us every morning at 6:58 AM on Facebook Live to start your day with God's Word, prayer, and a blessing from our pastors!